Lionel Messi's goal-scoring record at FIFA World Cups: Argentina's top scorer
Lionel Messi has scored 13 goals in 26 matches at the football World Cup. He scored seven goals at Qatar 2022.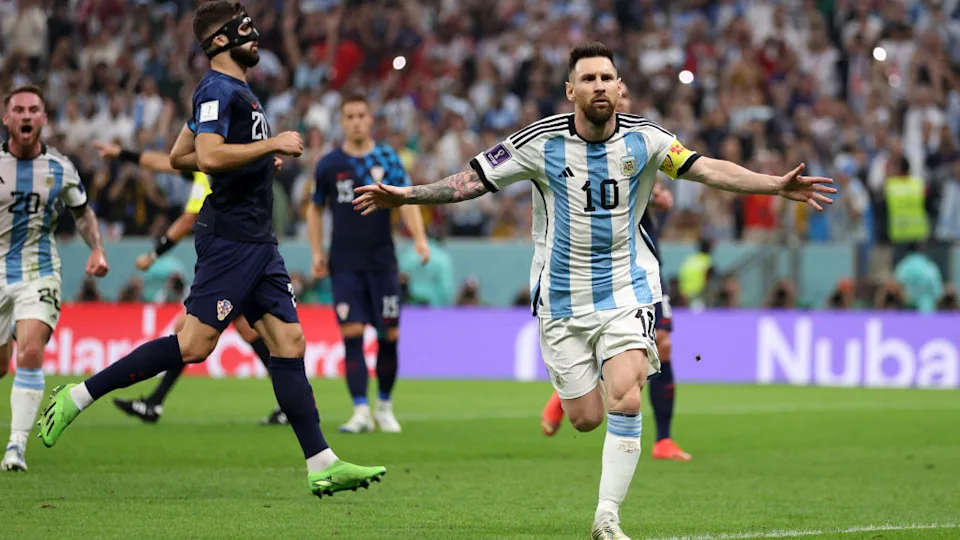 (Picture by 2022 Getty Images)
With over 750 senior goals for club and country, Lionel Messi's credentials as one of the greatest goal scorers in football history are beyond any doubt.
However, the Argentinian master had struggled to live up to these lofty standards on the FIFA World Cup stage until an incredible showing Qatar 2022, which helped Argentina to their third world title.
Lionel Messi has scored 13 goals in 26 matches at the FIFA World Cup, spanning five editions (2006, 2010, 2014, 2018 and 2022). Messi is the highest goal-scorer for Argentina at the football World Cup.
The stats put Leo Messi's scoring rate at football World Cups at 0.50 goals per game. Though an impressive number, it is lower than the 0.56 goals per game he boasts in his international outings with Argentina.
Lionel Messi has netted 98 goals in 172 international matches in his career, making him the top goal scorer of all time for Argentina. Messi is also third on the list of highest goal scorers in international football and second amongst active players, only behind rival Cristiano Ronaldo.
At the World Cups, Messi features a little lower down the list. Germany's Miroslav Klose (16 goals from 24 matches) is the highest scorer at the quadrennial meet.
Before Messi, Gabriel Batistuta (10 goals from 12 matches) was Argentina's most prolific scorer at FIFA World Cups. Diego Maradona (21 matches) and Uruguay 1930 Golden Boot winner Guillermo Stabile (four matches) have scored eight goals each.
Lionel Messi also has an impressive goal-scoring record in FIFA World Cup qualifiers, having netted 28 times in 60 appearances.
Lionel Messi came at the FIFA World Cup 2022 at the age of 35 and improved his World Cup goal-scoring record considerably in Qatar.
Here's a look at the Argentinian icon's goals at the FIFA World Cup.
Lionel Messi first FIFA World Cup goal
Lionel Messi scored his first goal in the football World Cup at the 2006 FIFA World Cup in Germany against Serbia and Montenegro in Argentina's second Group C clash at the FIFA World Cup Stadium in Hamburg.
After witnessing his team beat Ivory Coast 2-1 in their group opener from the bench, Lionel Messi made his World Cup debut against Serbia and Montenegro in the following fixture after coming off the bench in the 75th minute.
Argentina were already leading 3-0 at the time and just three minutes into his debut, Lionel Messi assisted Hernan Crespo for Argentina's fourth goal of the match. In the 88th minute, Messi got on the scoresheet after latching onto a Carlos Tevez pass and beating the opposition goalkeeper at the near post to complete a 6-0 drubbing.
With his maiden goal at the global showpiece, Lionel Messi, then 18 years and 357 days old, became Argentina's youngest scorer at the FIFA World Cup.
Argentina coach Jose Pekerman handed Lionel Messi his first FIFA World Cup start in a 0-0 draw against the Netherlands and the teenager also made a substitute appearance as Argentina beat Mexico 2-1 in the round of 16. He, however, was an unused substitute as Germany knocked Argentina out through penalties in the quarter-final.
Disappointment at South Africa 2010
Unlike the 2006 World Cup, where he came in as an up-and-coming teenager, Lionel Messi had the burden of expectations stacked on him for the 2010 FIFA World Cup held in South Africa.
Leo Messi had, after all, set the bar high following his exploits with Barcelona and guiding Argentina to the Olympic gold medal at Beijing 2008. However, the script didn't quite play out as planned for the Argentinian maestro.
Argentina made it to the quarters again before being ousted by Germany but Messi, despite contributing heavily to the team throughout, remained goalless in his five matches. His only goal contribution at the edition was an assist to Carlos Tevez during Argentina's 3-1 win over Mexico in the round of 16.
Bittersweet Brazil 2014 FIFA World Cup
After the 2010 campaign, Lionel Messi had a lot to prove by the time the FIFA World Cup 2014 in Brazil rolled in. This time, the little maestro took the tournament by the scruff of the neck.
Lionel Messi, with four goals and one assist in seven matches, almost single-handedly dragged Argentina to the final but eventually, Messi and Co. fell short after Germany, again, beat them 1-0 in the final.
Two of his goals came in a 3-2 win over Nigeria in a group match. It's the only time Lionel Messi has scored more than one goal in a single FIFA World Cup match.
Besides being the top scorer for his team in the 2014 World Cup, Lionel Messi was adjudged the best player of the tournament and won the Golden Ball award.
Early exit at Russia 2018
The FIFA World Cup 2018 in Russia saw Argentina knocked out in the round of 16 by eventual champions France.
Lionel Messi, despite missing a potential match-winning penalty against Iceland in Argentina's first game, however, was the standout player for Argentina in what was otherwise a disappointing campaign for the South Americans.
Messi's only goal in the tournament came in the final group match against Nigeria, setting the tone for a 2-1 win. It was a virtual playoff game for both sides to make it to the knockouts.
With his goal against Nigeria in the 2018 edition, Messi, interestingly, became the first player in history to score in the FIFA World Cup in his teens, twenties and thirties.
Even during the 4-3 loss to France in the final-eight clash, Messi was the one who kept Argentina's hopes alive right till the end, assisting two of his team's three goals.
Ultimate glory at Qatar 2022
Lionel Messi, 35, came into the FIFA World Cup 2022 in Qatar with a lot of expectations and delivered brilliantly, scoring seven goals in as many matches. He fell one short of Kylian Mbappe's tally and missed out on the Golden Boot, but it was enough to win Argentina a historic third World Cup title after 36 years.
Two of his goals came in the final vs France and the tournament saw Messi score in each of the four knockout rounds - previously unprecedented in the FIFA World Cup.
Lionel Messi's FIFA World Cup goals
No.OpponentFIFA World CupMatch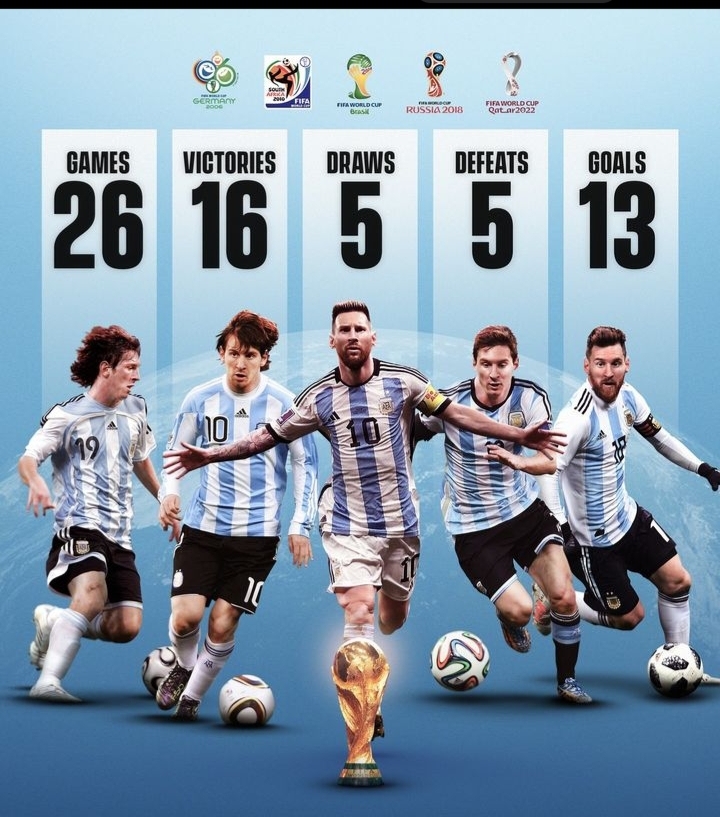 | | | | |
| --- | --- | --- | --- |
| 1 | Serbia and Montenegro | Germany 2006 | Group stage |
| 2 | Bosnia and Herzegovina | Brazil 2014 | Group stage |
| 3 | Iran | Brazil 2014 | Group stage |
| 4 | Nigeria | Brazil 2014 | Group stage |
| 5 | Nigeria | Brazil 2014 | Group stage |
| 6 | Nigeria | Russia 2018 | Group stage |
| 7 | Saudi Arabia | Qatar 2022 | Group stage |
| 8 | Mexico | Qatar 2022 | Group stage |
| 9 | Australia | Qatar 2022 | Round of 16 |
| 10 | Netherlands | Qatar 2022 | Quarter-finals |
| 11 | Croatia | Qatar 2022 | Semi-finals |
| 12 | France | Qatar 2022 | Final |
| 13 | France | Qatar 2022 | Final |
-----------------------------------------------------------------------------------------------------------------------------------------------
메시의 위대한 장점은 17세에 프로에 데뷔한 이후로 지속적으로 자신의 축구 능력을 발전시키려
노력하고 포기하지 않은 도전 정신으로 클럽과 국가를 대표한 정신력이다.
35세의 나이까지 세계 최고의 수준의 축구 선수로서 기량을 유지하기 위해 육체적,
정신적 자기관리를 지속했고
국가대표로서 무수한 좌절과 고통을 경험하면서도 18년 동안 월드컵 정상을 위해
자신의 모든 것을 다바쳐서 노력해왔고
아르헨티나 대표팀이 원팀이 되도록 중심 역할을 한 것이다.
축구선수로서 올림픽, 월드컵, 코파 아메리카, 참피언스리그 정상에 오른 최고의 선수이며
발롱드르 7회 수상이 역대 최고의 선수임을 증명해 주고 있다.
가정과 클럽, 국가를 대표하는 스포츠 스타, 세계가 사랑하는 축구 선수인 리오넬 메시는
여전히 그 다음이 기대가 되는 존경받는 선수로 남을 것이다.