The UK is worse than Bahrain, Spain, Mexico, and the UAE for raising a family, according to a new index.
According to HSBC's ranking of expats' responses in the Expat Explorer report, the UK is the 29th best country for families.
The ranking is based on questions relating to:
Social life
Closeness to partner
Tolerance
Childcare quality
School quality
Overall cost of children
Health
Integration
Quality of life
Eruropean countries fared well in the index of 45 countries, while South American countries fared poorly.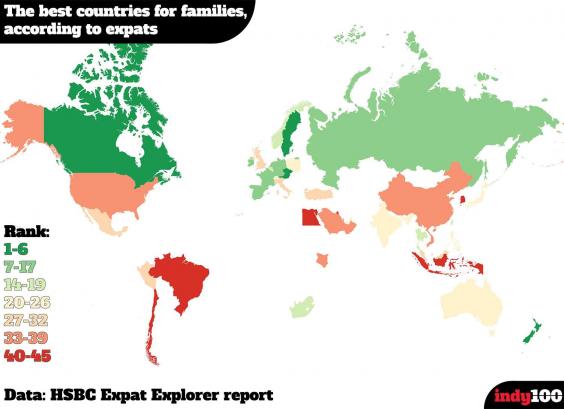 Sweden came top of the rankings, with nearly three quarters of expat parents in Sweden rating their children's quality of life as better than back home.
Forty-six per cent said the quality of education was better and 72 per cent said it was less expensive, while 75 per cent said the quality of childcare available was better.
The full rankings are as follows:
| | |
| --- | --- |
| Country | Rank |
| Sweden | 1 |
| Czech Republic | 2 |
| Singapore | 3 |
| New Zealand | 4 |
| Canada | 5 |
| Austria | 6 |
| Spain | 7 |
| Russia | 8 |
| Bahrain | 9 |
| Netherlands | 10 |
| Ireland | 11 |
| Germany | 12 |
| France | 13 |
| Belgium | 14 |
| Taiwan | 15 |
| Norway | 16 |
| Thailand | 17 |
| Hong Kong | 18 |
| South Africa | 19 |
| Australia | 20 |
| Poland | 21 |
| United Arab Emirates | 22 |
| Philippines | 23 |
| India | 24 |
| Japan | 25 |
| Switzerland | 26 |
| Malaysia | 27 |
| Mexico | 28 |
| United Kingdom | 29 |
| Peru | 30 |
| Turkey | 31 |
| Italy | 32 |
| Kenya | 33 |
| Oman | 34 |
| Vietnam | 35 |
| Qatar | 36 |
| USA | 37 |
| China | 38 |
| Saudi Arabia | 39 |
| Egypt | 40 |
| Kuwait | 41 |
| Brazil | 42 |
| Indonesia | 43 |
| Chile | 44 |
| South Korea | 45 |